Issue IV and V, Archived
Hello,
Welcome to 'The Newb Files', Issue IV and V.
My apologies, what with our Internet service outage and software troubles this issue will find you later than intended. More than a full month later, so I have combined the November and December issues into one issue.
Now, after more than a month, we are back on-line. We hope. I have opinions about Eastlink's processes, but will keep them to myself.
I have good progress to report and a recent addition to the newsletter: a recipe.
FYI: At this point in my life, I consider any progress

good

progress. ...
End of Year Message
My newsletters (as you may have noticed) are not full of reminders or greetings relating to whatever holiday is closest to the issue date.
But, now, as the end of this year approaches, I want to first, thank everyone who has subscribed to my newsletter, and second, I also want to wish everyone a Merry Christmas and a Happy New Year. Or whatever you may celebrate.
I celebrate by cooking my favorite meal, a roast turkey with all the trimmings. This year, because of COVID-19, it will just be the actual mammals that reside here, so I am trying something different, a turkey roulade. I will let you know how it goes.
We are lucky to live on the east coast of Canada and have home-based work so our lives have not been impacted like those of so many others in Canada and around the world.
I personally find that the arbitrary line-drawing related to the end of the year and similar events to be silly. But now, as the hope of a vaccine for COVID-19 is becoming realized, and the fool in the White House is about to be evicted, drawing a line seems appropriate.
All the best in 2021, from our home to yours.
Eric C Bailey
In Progress
1. Not writing related, but I have worked on, (not finished) the 'patio'.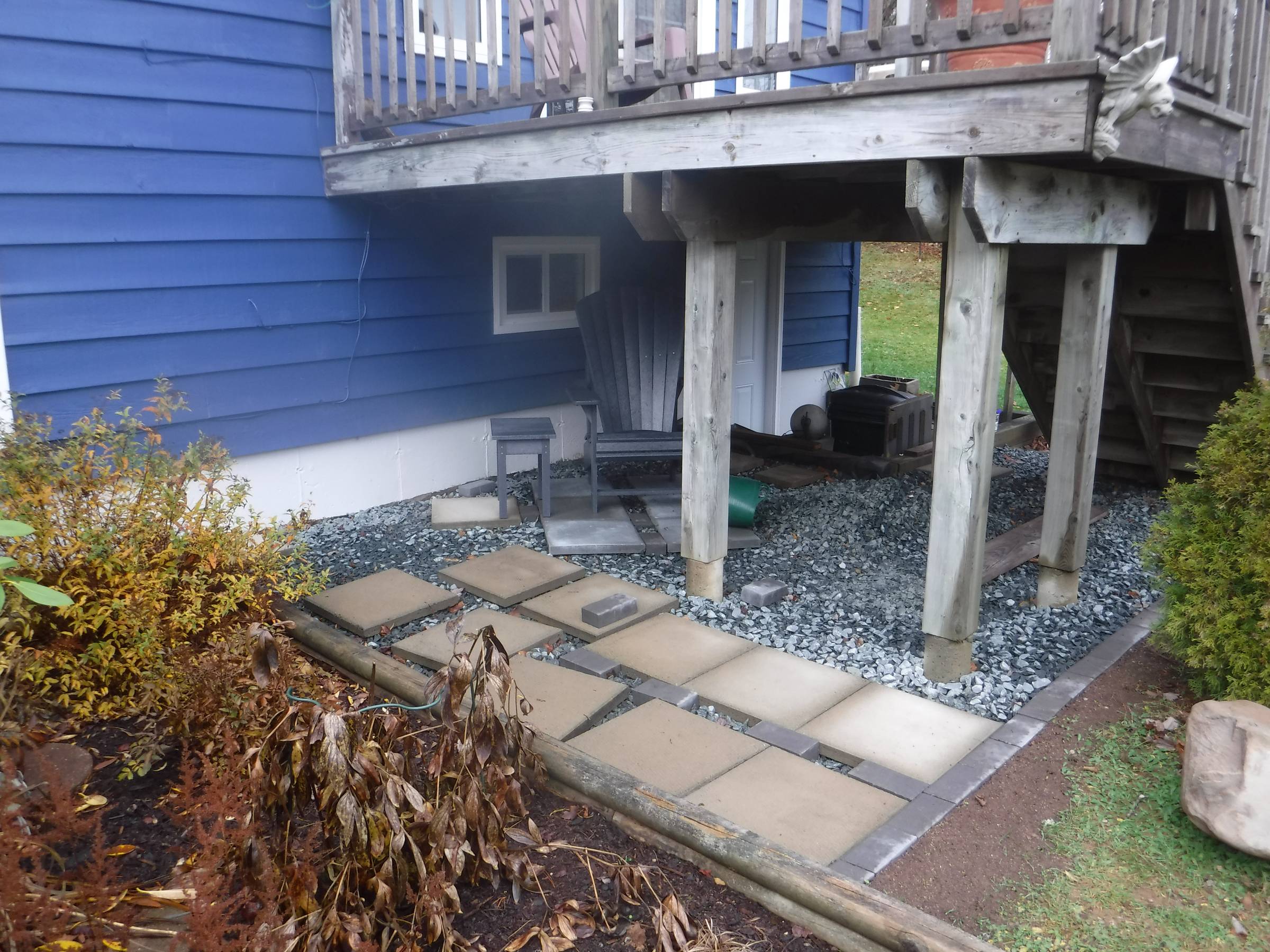 It was bare dirt before so, progress. Yes, I am hoping for an ice-filled snow drift to put an end to this project until spring. ...
2. I am continuing to pick away at 'Scream and Leapt' to prepare for Beta readers. ...
3. Preliminary work on 'Zombies, a Novel' is proceeding, however slowly, while I wrap up a couple of projects around the house.
Opinion
ALL-CAPS
Have you noticed I occasionally use all caps? Well, I do, and for several reasons.
I retired from computer drafting in August 2019. After spending most of my life as a draftsman of one sort or another, ALL CAPS looks normal to me.
Drafting uses all caps and specific grammar, and punctuation rules (or lack thereof) to make drawings easier to read, easier to work with. This goes back to a time when work places (boat shops in particular) were dark and dingy places.
That was then, now, I use all caps for emphasis.
I don't care if some people see it as shouting; it's not. At least not in a short story or a novel.
And, while we're at it, stay off my lawn. ...
Read Something
Below are links to a few short stories I wrote. The first three are the results from an exercise in 'voice' for the diymfa.com writing course I took in the spring of 2020. The fourth is the second short story I ever wrote, which I wrote as an entry for the 2020 CBC Short Story Prize.
Clicking a button will take you to my author website.
Science Fiction/Fantasy/Western (Foul Language/Mature Content)
WARNING: Spoilers Alert!
Monthly Newb Moment
To Newsletter or not to Newsletter. ...
When I attended the ConvertKit/diyMFA web-based workshop on newsletters, I wasn't sure if I would create a newsletter for my author self.
I had used newsletters in the past during my checkered contract computer drafting career, but with mixed results to say the least. My favorite version was the first, a printed newsletter that I used at the beginning, refer to picture. ...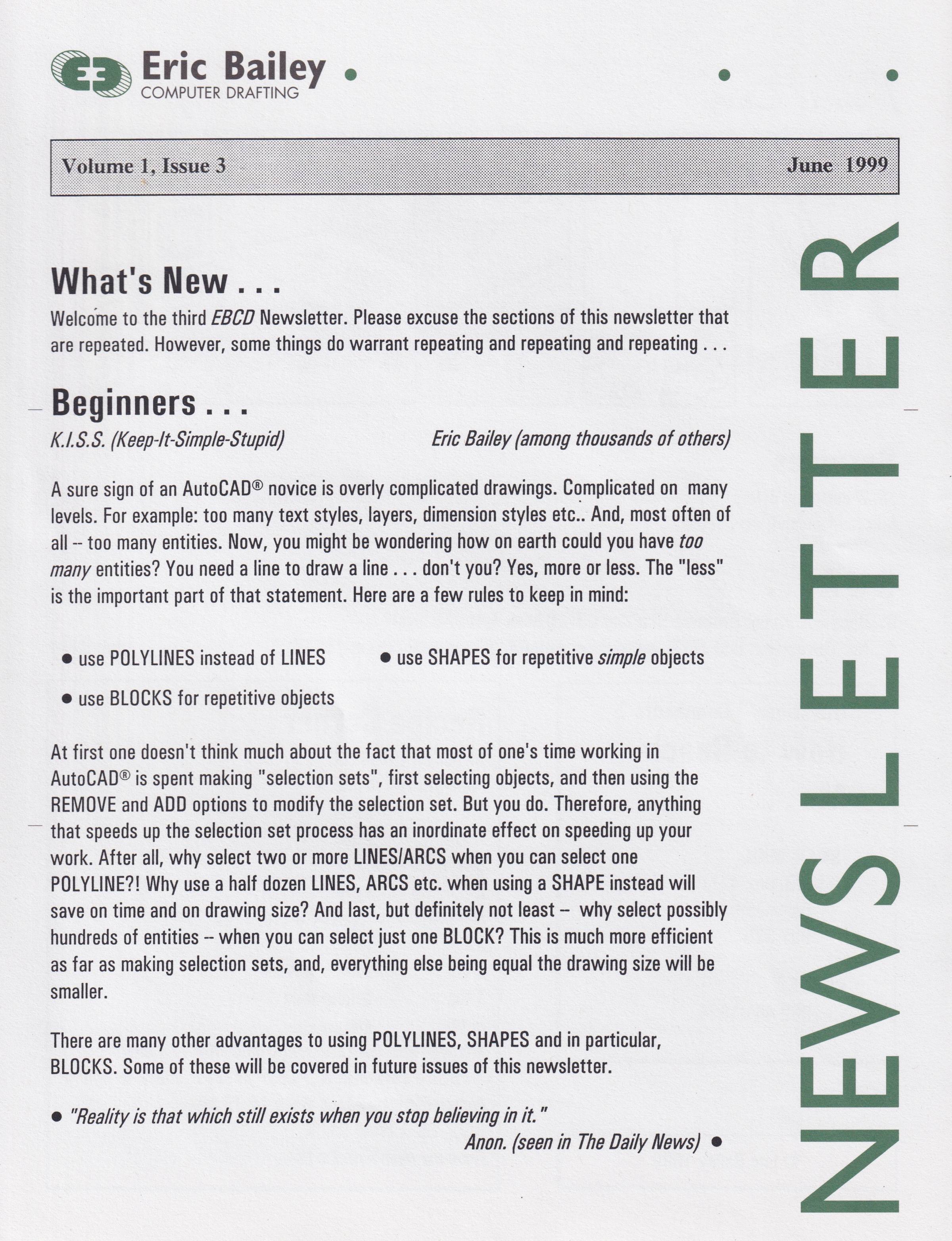 This is the front of the third issue (the back of the third issue had my first pencil envy comic). I mailed the first issue to clients in April 1999. I issued only five (one a month) before I purchased my first computer and started using email newsletters. I just couldn't justify the time and expense for a printed paper newsletter.
Thinking about my past experience and thinking about creating an author newsletter, I almost decided not to do it. It would be a lot of writing and deadlines. ... not worth it. And then I thought, well, that's what I do now. Write, and occasionally, deadlines.
So here we are, on Issue IV, and I have noticed a few things which makes me wonder if I should continue. ... I won't leave you in suspense though; I will continue to issue (warning: all-caps ahead) a MONTHLY email newsletter until December 2021, at least.
So why the big debate?
I am continuing with the author newsletter because in the long run I think it will be worth it. Unlike the computer drafting newsletter, an audience will build, will grow. So little attention was given to the computer drafting newsletter, by the people that counted, that it was not worthwhile. I was getting work because of word of mouth, not because of the newsletter. Not because of the website or business cards.
Need an example? I answered my phone one day to be greeted by a frustrated-sounding engineer, who I had worked for over many years, many times. They said, in an accusatory tone, 'Why don't I have your phone number?' They had to get someone in their office to track me down on-line. Why? Because despite the barrage of newsletters (paper and email), my website, multiple business cards, and WORK I had done for this person over the years, they didn't have my phone number at hand.
How could this happen? Well, it is difficult to get people to pay attention, to listen. Period. Even if it is in their best interest. Even if it takes a trivial amount of time and effort on their part.
As I was about to print the first issue of my computer drafting newsletter, I gave the final draft to my fiancée (now wife) to read. Her only comment was that it was full of Eric Bailey Computer Drafting, over and over. Yes, yes it was, and on purpose. I said, if you gave that to someone to read and then asked them what it was about, maybe half of them would say Eric Bailey Computer Drafting.
The single biggest problem with communication is the illusion that it has taken place.

George Bernard Shaw
Now, instead of plain email, I use on-line software to create and distribute my author newsletter. I use ConvertKit.com to produce my newsletter and track its performance. Various types of reports are available to show who opened it, clicked on it, in it, clicked unsubscribe, etc. However, I also know it does not catch every detail. People hit delete as they scroll by, read their emails as they scroll through, and then delete without ever clicking into the email. ConvertKit does not catch these subtleties.
I have also noticed that I was just as guilty of ignoring, of not reading, the several author based email newsletters I had subscribed to since I started writing.
I make a point of reading them now (no, I'm not caught up yet). There is a lot of good stuff in them, as I hope there is in mine.
Current email newsletters I subscribe to:
Peter J. Foote [https://www.subscribepage.com/c3j4h4]
K.M. Weiland [https://www.helpingwritersbecomeauthors.com/]
Tor.com [https://read.macmillan.com/tordotcom/newsletter-signup/]
Michael Mammay [http://www.michaelmammay.com/subscribe-to-my-blog-posts/] email notifications for his BLOG
Note: this does not include business email newsletters such as those from diyMFA, ConvertKit.
Check them out. And, even more importantly: read their writing, including email newsletters, and give the authors feedback. It is much appreciated.
And finally, a warning to authors. Creating a newsletter reminds you of things left unfinished. I noticed I have been writing about getting Scream and Leapt ready for Beta readers from Issue I. ... three months ago. Oops. It's getting there.
Will I ever be able to change the name of this Newsletter?
Stay tuned, it could take a while.
Recipe: Snickerdoodles
Dough Mixture
1 cup butter
1 1/2 cups sugar
2 eggs
2 1/4 cups white flour
2 tsp cream of tarter (or baking powder)
1 tsp baking soda
1/2 tsp salt
Coating Mixture
2 tablespoons cinnamon (to taste)
1 tablespoon white sugar
Method
0. Cream butter and sugar well, and add eggs, beating well.
1. Sift together flour, cream of tarter OR baking powder, baking soda, and salt, and add to mixture.
2. Mix well and form into rough balls. Note that smoother balls of dough will not pick up as much of the cinnamon and sugar mixture.
3. Roll in coating mixture of cinnamon and sugar.
4. Place on lightly buttered cookie sheet.
5. Bake 10-12 minutes. Cookies are done when, after having puffed up into a dome shape, they slightly flatten and are a light brown on the bottom.
NOTE: If you use baking powder instead of cream of tarter, it will be a struggle to get the perfect degree of doneness and tender/crisp texture. Use cream of tarter, it is worthwhile tracking it down.
Servings: 3-36
Yield: 3 dozen
Source: Mom (and me)
This recipe goes way back. When we were kids, my Mom used to serve these cookies with partially set Jell-O.
F.A.Q.
Future newsletters may have Frequently Asked Questions. Send your question(s) to: Eric.
That's all for this month!
Thanks,
Eric C Bailey, December 14 2020 [for November 14, 2020 as well]
The Newb Files, Science Fiction and Fantasy
I will never send you spam. You may unsubscribe anytime.

website: ericcbaileyauthor.com email: eric@ericcbaileyauthor.com
Newsletter Archive
Copyright © 2020-2021 Eric C Bailey (All rights reserved)